Ok in an attempt to blog my marathon prep, I'm three weeks in and this the first real post. Good Erin, good. Life gets busy and I'm having a hard enough time making time for the runs let alone blogging about them, but I want to give you all an inside look at what it's like to train for a marathon as a "non-runner".
Now before I get my head chopped off for calling myself a non-runner, I'm simply sharing this because I don't love running. It's not my preferred form of exercise, it's something I do but typically no more than 3-4 miles at a time. So for me, 26.2 sounds like a heck ton. Because it is. This training is going to be quite difficult for me. Yes I am a "fitness professional," but I traditionally train for very different things and that will only help me so much when it comes to running for four hours straight.
This week, week 3, was all about creating consistency for me. I'm back from holidays and work travel and out of excuses. Do the runs. Focus on how your body feels. Fuel your body for your runs. Stay in on Friday night (so you have energy for Saturday's long run).
This week's schedule and results: (As created by my badass coach Steve Mura with NYRR)
Tuesday: 5 miles Fartlek (I chose to make this my MyStryde training day, more on this below)
Wednesday: Rest Day (I went to the gym for a circuit of wall balls, kettle bell swings, box jumps, and some shoulders)
Thursday: 4 miles (I only had time for two...weak Erin, weak. I also had my first boxing lesson with George Foreman III, so got in some cardio and tons of arms/core).
Friday: Rest Day (I did plyometrics and lots of core and stretching)
Saturday: 7 miles (Felt like a champ after this one! Listened to Rich Roll's podcast and ran slow and steady. I was practically surprised the 7 miles were up at the end, thank you podcasts).
Sunday: Rest Day/Pedicure Day (I had just gotten a massage on Saturday so I'm saving the pedicure for next week).
Monday: 4 miles (I did 5 because I didn't gauge the distance well and just felt great so why not. Plus I was listening to the Rich Roll podcast with David Goggins, OH MY GOD go listen now. It'll make you want to run 100 miles. Seriously.)
My biggest lesson this week was to find joy in the process. Something I PREACH often, but hadn't applied to my marathon training yet. If you've talked to me in person my attitude isn't all there. I've certainly not been excited about my runs, and been a massive baby about the cold. This week I dug deep and really reflected on the process and how I actually feel about it rather than how I think I should feel. I had this overwhelming realization that the runs I do look forward to are at MyStryde.
I mentioned before that I'm partnering with them for my training, but I honestly did it because I know it's freaking cold here and going to snow and I wanted a place I could train inside. What I didn't realize I was going to find was that MyStryde is where I feel like a runner. And that's a big statement. MyStryde is what gives me the confidence to know I can conquer the other 3-4 runs i have that week on my own. MyStryde is what makes me feel like I can freaking do this.
It's not about running on treadmills to loud music. It's about the badass coaches reminding you every step of the way that you have a why, find your why, dig deep, and add a little speed. Because you can. And then you do. It's about the people running beside you sweating it out that are keeping you going, because you're in it together. It's about the combination of tread work and floor work, keeping your full body engaged and strong. It's about the strategic programming of intervals and hills you hit at speeds you'd never dream of doing on your own. It's about walking in a little nervous, and walking out feeling like a freaking powerhouse.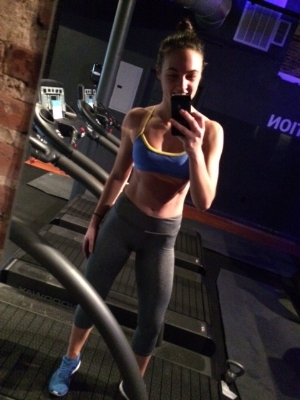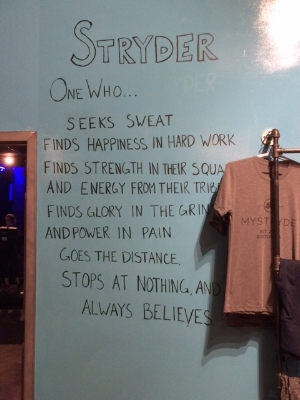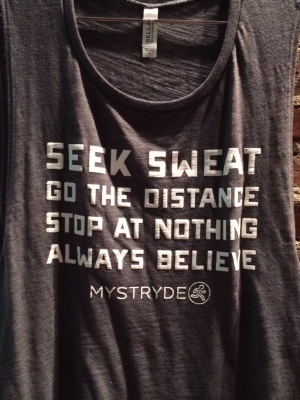 MyStryde is what adds joy to my training. So grateful for the awesome team there and letting me be a part of it. If you're in Boston and want to check it out just let me know! I know they'd be happy to have you :)
Now off to Week 4. Let's do this.
If there are any specific marathon training topics you want me to cover or questions you have just post them below! I'd love to hear your thoughts and want this to be as helpful for you as it is a journal of the process for me. Much love <3