I'm currently on the plane (ok this was four days ago, its been a busy week!) on the way back to Boston from a wonderful weekend away with my family in Wrightsville Beach (my first love). It was so wonderful having the four of us together for a long weekend, the more we grow up the harder it becomes.
Last week having such a low really lit a fire under my butt. I have seven weeks left, and in the grand scheme of life that is nothing! I have to keep remembering that. I chose this. I dedicated myself to this. If I don't give it my best, I'll only let down myself. However, with that said, TEMPTATION was EVERYWHERE. We got a three bedroom oceanfront condo (instead of a hotel) so that I could have a full kitchen to cook. A HUGE thank you to my mom and dad for changing their plans to support me in this journey…but it wouldn't be a family vacation with a test or two for me. So here we go:
I flew down to Raleigh and got to spend the night with one of my best friends from college and we got a yummy vegan dinner (high on carbs but totally clean so I didn't feel bad!).
Wendy's: My parents picked me up in the morning and we stopped and got lunch at Wendy's. Shouldn't be a huge shock that eating clean is just about impossible through fast food. I got a grilled chicken sandwich and ate just the patty with a side salad (no dressing).
Oceanic: One of the yummy restaurants right on the ocean. It's known for is southern spin on fish. They bring hot fresh hushpuppies to your table with fresh butter to start. Mom saved me and just ripped me off a bite of hers, YUM! I got a grilled salmon salad with citrus dressing (I should've taken more pics!).
Mexican: Saturday night were the big basketball games and my Dad and sister are HUGE fans. The family ordered Mexican (my favorite) and I made my broccoli and grilled chicken. I did save a couple carbs and fats so I could have a chip of guac!
Easter: Thank goodness the Easter bunny found us all the way down in Wrightsville Beach and brought us goodie bags filled with candy. I think the Easter bunny wanted to save a trip because he also brought one for my roommate and boyfriend so now I have THREE BAGS STUFFED WITH CANDY sitting at my feet and I'm dying to dig in. They even included the Reese shaped like eggs. Those are the best. This is my resisting. 7 weeks.
I have to say I couldn't have stayed on track this weekend without a few things:
My supportive family: Yes they might have teased me some, but they made sure I had plenty of healthy food. As soon as we got to the beach my Dad jumped back in the car with me (after a 6 hour drive) to go to the grocery store and get food because I was starving after just two meals for the day. They even let me cook one of my go to dinners (grilled chicken, veg and brown rice) for dinner and loved my every day breakfasts of egg whites, Ezekiel toast and salsa. You guys are the best!
Natalie: She's one of my very best friends and my complete inspiration to do this competition. I spoke about her in my first post. She drove two hours to some spend the afternoon with me, going through a glutes workout, and giving me endless tips for the journey. Honestly seeing her really helped me remember how driven and motivated she was (and is) and that I can do it too. She was impressed with how much I can lift (as I never lifted when we were in college together) and that was all the confidence I needed.
Froyo: I don't know why I can't find this in Boston, but Wilmington has a froyo place that carries Newberry froyo thats clean and only 8 CALORIES an oz. 8!!! It's amazing. Just amazing. I went twice.
Ashley in her first comp: One of the girls Johnny also trains competed in her first competition this Saturday and ROCKED it!! She placed in three of her divisions and looked stunned. She even made her own suit. Like what?! Well done lady!
Such an awesome weekend. I'm really proud I stayed on track. I even packed a ziplock of grilled chicken and broccoli to snack on on the drive from Wilmington to Charlotte to fly back. I never in my life thought I'd be car snacking on broccoli. Who am I?! The purpose of this post was to share temptations and then share craving and how to get through it. So sorry for the monologue but let's finish strong!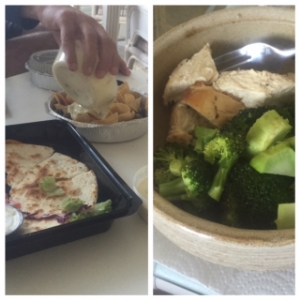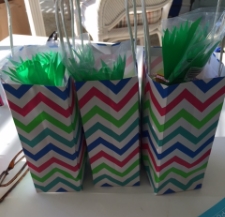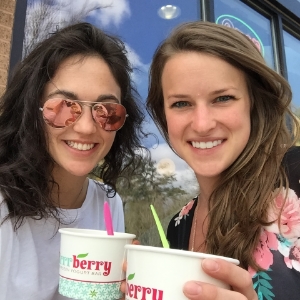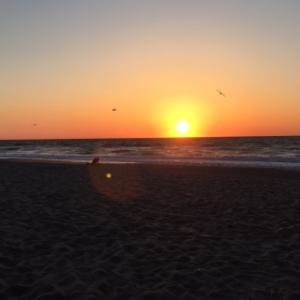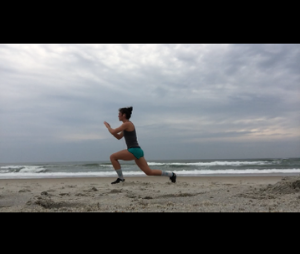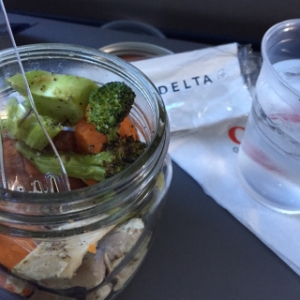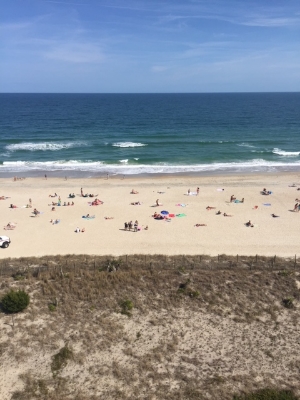 I was definitely hungry sometimes this weekend. It was an active weekend making sure I completed my workouts, long walks on the beach with mom, a couple beach runs, and beach volleyball! Things I needed to stay on track:
Crystal Light (sweetened with Truvia): First, beach water is gross. But second having my 24oz water bottle filled with watered down crystal light at all times helped me stay satisfied when I was hungry. Often times your body telling you your hungry is really just you dehydrated. I'm definitely not dehydrated because I can't even sleep through the night anymore because I have to get up to pee. Twice. But, keep your water bottles filled and drink up!
Green Tea: I think I just get bored with water and then want a flavor, green tea helps.
Coffee: Hot. Cold. Blended. I don't care I'll take a large! Coffee is a god send for me. It filled me up or at least prolongs my hunger until I can get a good meal.
Apples: Yes they've got a few carbs, but they're also delicious and crunchy and make me feel like I'm eating a lot!
Get up and go! Lots of times I think I'm hungry but I'm really just bored. The more active I am and busy my mind is the less I find myself wanting food. Talk a walk. Read a book. Take a nap. Who cares, just get out of the kitchen!
I won't bore you anymore for now! Again, just a wonderful weekend and I'm ready to get back home (Boston) and see my love, train hard, and eat well.
Do you all have any good craving curbers? I'm always looking for more! Any good clean recipes too are always helpful!
Thanks for the constant support, you all have been wonderful! Happy Easter!
…maybe just like one Reese egg? Is that Ok?!